Testosterone is the main male sex hormone, but females also have small amounts of it. Having optimal levels is important throughout adulthood and even during old age.
Healthy testosterone levels are important for both men and women. Therefore, everyone should take the necessary lifestyle steps to optimize testosterone levels. You will improve your health and body at the same time.
We present you our unique Shrimp Coco-Cari recipe. If you love shrimps, you will love this Asia fused flavor and all its health benefits.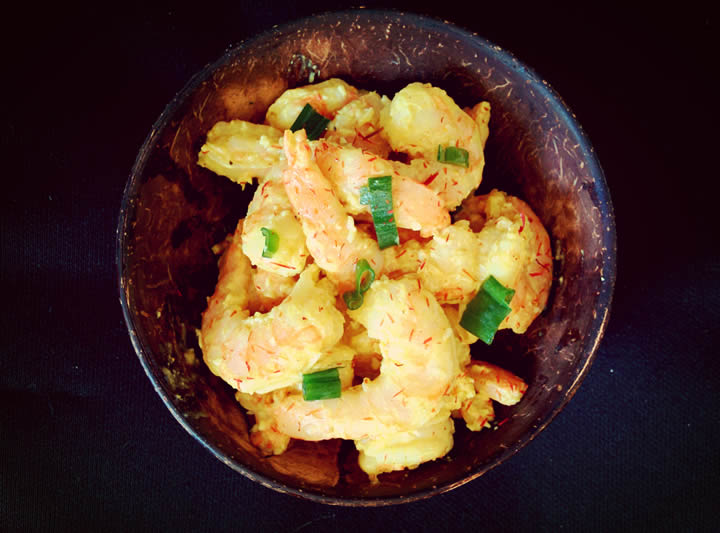 We made this rich recipe, to enhance the natural ability of the body to increase their testosterone levels., and here's how we created it.
How we did it?
Besides clean and loaded with 40 grams of protein from sea shrimps, we use pure virgin coconut oil, preservative free coconut milk and lots of  organic curry and turmeric.
How this recipe increases your testosterone levels?
Paleo-worthy coconut can not only help your diet taste like a tropical vacation, it can also keep your T-score at healthy levels. That's because the giant nut is a source of saturated fat, which plays a role in testosterone production. In a study published in "The Journal of Clinical Endocrinology and Metabolism," investigators found that healthy males who switched from their regular high-fat diet (13 percent saturated fat) to a low-fat diet (5 percent saturated fat) saw significant decreases in their testosterone levels. (1)



Physique-minded individuals can obtain up to 10 percent of their calories from saturated fat to help keep testosterone at its peak without any major concern over increasing your risk of getting fat.  Not to worry with our Coco-Cari recipe.                                                                                                                                                                                                                      

Seafood like shrimp is rich in vitamin D, and researchers at the Harvard School of Public Health in Boston found that men and woman with higher levels of vitamin D also had higher levels of testosterone. (2)  These findings may help explain why a study in "Medicine and Science in Sports and Exercise" reported that men and women with higher blood levels of vitamin D tend to have stronger upper- and lower-body muscle strength.(3)  So, the upshot is that if you want to build strength and muscle like a pro, it's best not to take your vitamin D intake lightly.Unfortunately, many people have inadequate vitamin D levels during the winter gloom, which could cause your testosterone levels to take a nosedive, but we are here to help.
Try our new Coco-Cari recipe available in all three carb controlled Lifestyles
Are you a big guy? We will load this recipe with plenty of complex carbs or simple Jasmine rice if you are in the need to replenish yourself after workouts. Try our Extreme Lifestyle.
Are you on your quest to losing weight? We will make sure you don't lose your hard earned muscles but keep you lean. Try our Slender or our Active Lifestyle.
Choose your style and get all the benefits of a Testosterone boosting Coco-Cari.
Wang, C. (2005). Low-Fat High-Fiber Diet Decreased Serum and Urine Androgens in Men. Journal of Clinical Endocrinology & Metabolism, 90(6), 3550-3559.
Nimptsch, K., Platz, E., Willett, W., & Giovannucci, E. (2012). Association between plasma 25-OH vitamin D and testosterone levels in men. Clinical Endocrinology, 77(1), 106-12.
Grimaldi, A., Parker, B., Capizzi, J., Clarkson, P., Pescatello, L., White, M., & Thompson, P. (2013). 25(OH) Vitamin D Is Associated with Greater Muscle Strength in Healthy Men and Women. Medicine & Science in Sports & Exercise, 45(1), 157-162.